Profile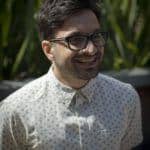 Viren Swami
Curriculum Vitae
Education

University College London (BSc, 1999-2002) and University College London (PhD, 2002-2005).

Qualifications

BSc Psychology (Honours, 1st Class), PhD Psychology

Work History

University of Liverpool (2006-2007), University of Westminster (2007-2015), Anglia Ruskin University (2015-present).

Current Job

Professor of Social Psychology

Employer
Favourite thing to do in my job: Thinking of new ideas that I can test scientifically.

About Me: Professor of Social Psychology

Read more

I was born in Malaysia but educated in the UK, and later became one of the youngest Professors of Psychology in the country. I now work at Anglia Ruskin University in Cambridge but live in London with my wife Christa, son Jesse, and our two dogs Brick and Reggie. I've written several books on psychology, love reading fiction, and go to the gym most days of the week. I've also appeared in a music video!

My Work: I study body image or what we feel and think about our bodies. I design ways of helping us develop more positive body image.

Read more

I am a social psychologist, with an interest in body image. I try to understand why so many people across the world feel anxious and dissatisfied about their appearance, which is important because negative body image can result in all sorts of negative outcomes. I also try and develop methods of promoting healthier body image. For example, I've been looking at how spending time in nature might have a positive effect on our body images.

My Typical Day: When I'm not lecturing, I can usually be found in front of my laptop doing research (or procrastinating by watching videos on YouTube).

What I'd do with the prize money: I'd like to help school students write articles about their body image and what they think should be done to promote more positive body image.

Read more

I think that, although scientists have a lot to say about body image, we don't often hear the voices of school students. I'd like to work with a group of students to write a series of articles about what they think about their own body images – what they think negative body image is so widespread and what they think can be done to promote more positive body image. I'll work with the students to develop their ideas, set it to paper, and help get their articles published for other students from across the country to read.

My Interview

How would you describe yourself in 3 words?

Beardy, friendly, psychologist

What or who inspired you to follow your career?

Adrian Furnham, who was my lecturer at university.

What was your favourite subject at school?

English Lit.

What did you want to be after you left school?

A footballer, though I was never really any good (meh).

Were you ever in trouble at school?

Define "trouble".

If you weren't doing this job, what would you choose instead?

I'd probably open and run a bookshop. Or walk dogs for a living.

Who is your favourite singer or band?

I hate having to choose just one, but Enter Shikari is near the top of my list.

What's your favourite food?

Anything Malaysian (I'm Malaysian).

What is the most fun thing you've done?

I created a baby boy named Jesse.

If you had 3 wishes for yourself what would they be? - be honest!

Just one - that I could be more honest.

Tell us a joke.

Why are pirates called "pirates"? Because they arrrrrr.
---
---