Profile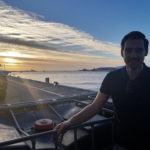 Sam Burton
Curriculum Vitae
Education

Hale C of E primary school, Bankfield school and St Hildas C of E

Qualifications

I went to the University of Liverpool for my degree and masters, I did a BSc in Psychology and a MSc in Research methods and Statistics in Psychology. I did my A-levels in biology, maths and chemistry.

Work History

During and after my degree, I worked as a bar manager as a bar in Liverpool. Now I work as a spinning and circuit training instructor, alongside my PhD

Current Job

For the next three years i will be doing my PhD. I am looking at whether people's self-control becomes better or worse in certain environments, when given alcohol. I also look at how when people are offered rewards, do they have better or worse self control.

Employer

I'm doing a PhD in the Institute of Psychology, Health and Society at the University of Liverpool. A PhD is working on one project for 3 years, with help from your supervisors. At the end, it is all written up as a thesis, if it's good enough I'll become a doctor.
Favourite thing to do in my job: Getting a file of data and turning it into something that makes sense and can be used.

About Me: I am 24 year old psychology PhD student form Liverpool.

Read more

I am 24 years old, PhD student from Liverpool.

Outside of work, I teach spin and circuit classes of an evening, and generally enjoy keeping fit (apart from running, I HATE running). In my spare time I enjoy going the gym, or anything active really, movies, gigs and travelling. I normally spend half my days searching for another holiday, if I'm not going through spotify or youtube.

My Work: PhD Student

Read more

I do research looking at people's self-control and how it causes them to drink more or less alcohol. I particularly look at how in certain situations people lose control and how this can lead to them getting drunk.

My Typical Day: My typical day, changes depending on what I'm doing.

Read more

As a PhD, i normally do a lot of work on my own. I share an office with other PhD students, so we often talk over all sorts, normally nothing to do with work. If I'm collecting data I spend my day in one of the labs. Other times I can be writing up my results, or writing about a new idea for another study.

I have regular meetings with my supervisors, they are doctors and professors who check the work I do. They make sure I'm not having any problems with my work. If I have questions about my work I can't find the answer to, I go to my supervisors who normally have the answer.

What I'd do with the prize money: I've got a few ideas!

Read more

I'd use the money to take part in a local science festival, like Green man. They have an area called Einstein's garden, where you can learn about science and technology.

I could also use it to take part in Pint of Science, in which you give a talk about your research in a local bar or pub.

Potentially, I'd like to run a talk that students from local schools and colleges can come to, to see the work done in our research group. This would include getting to go in the labs and use some of our equipment that we use in actual studies.

But I'd also like some advice and ideas, if you have any.

My Interview

How would you describe yourself in 3 words?

active, cheeky, geeky

What or who inspired you to follow your career?

My form teacher at high school, who told me "if you don't quit you can't fail".

What was your favourite subject at school?

Chemistry, who doesn't love setting stuff on fire?

What did you want to be after you left school?

Teacher

Were you ever in trouble at school?

I may have set a lab coat on fire by "accident", I only burnt half of the arm though!

If you weren't doing this job, what would you choose instead?

Probably be working as a personal trainer/ spin intructor

Who is your favourite singer or band?

Zac Samuel or Disclosure right now, I change music far too much

What's your favourite food?

ice cream

What is the most fun thing you've done?

Swimming with manta rays in Australia or going down a river in Laos in an inner tube of a truck tyre

If you had 3 wishes for yourself what would they be? - be honest!

be happy, good health for all my friends and family (cheesy ones out the way), see more countries!

Tell us a joke.

What do you call a trex with no eyes? A didn't-sawr-us-rex
---
---
---