Profile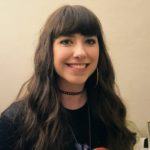 Amy Warnock
Curriculum Vitae
Education

School and 6th Form - Faringdon Community College (2003 - 2010), Undergraduate degree - University of Edinburgh (2010-2014), PhD - University of Edinburgh (2014-2018)

Qualifications

A levels in Biology, Chemistry, Psychology, Theatre Studies, Critical Thinking. BSc (Hons) Biomedical Sciences (Neuroscience)

Work History

Worked in lots of bars during University, Edinburgh International Science Festival, Edinburgh Neuroscience (University of Edinburgh)

Current Job

Research Assistant

Employer
Favourite thing to do in my job: I love learning new things every day!

About Me: I'm a 26 year old biomedical scientist living in Edinburgh who loves cooking, painting and playing guitar

Read more

I'm a 26 year old biomedical scientist living in Edinburgh. In my spare time I enjoy painting, running and playing guitar. I also love cooking and watching lots of cooking shows on TV! My favourite colour is green and my favourite animals are sharks.

My Work: I tickle rats to make them happy, then see how this affects their food choices!

Read more

I'm interested in how mood – particularly happy moods – can change how much and what we eat. We know a lot about how negative moods such as stress can change our eating habits but we still know very little about happy moods! Because it can be really difficult to study mood and feeding in humans I'm using rats as we can really easily measure their food choices without other factors affecting their decisions (such as what their friends are eating/whether they should be worrying about how healthy a food is etc.). To make the rats happy we tickle them – rats are really sociable animals and play with each other a lot, so by tickling them we are mimicking their natural play behaviour! We can tell if the rats are happy by measuring certain noises that they make which are outside the range of human hearing called ultrasonic vocalisations – there are two types of these noises, one type which is associated with happy experiences like playing, and another which is associated with negative experiences such as fighting. By counting these sounds we can tell how happy a rat is, and when they're being tickled rats tend to make a lot of the happy noises! Once they've been tickled we then give the rats choices of different foods to see if being in a happy mood can change their food choices.

My Typical Day: Weighing and tickling some rats and then counting and analysing the sounds they make during tickling!

Read more

If I'm doing an experiment my day would usually begin by weighing my rats and their food and water (because I'm interested in obesity and feeding it's important we know how much they weigh and how much they are eating each day!). I would then tickle my rats – this has to be done in very specific ways to make sure that each rat is tickled for the same amount of time – and record the sounds they make whilst their being tickled. I might then give the rats a choice between certain foods after they have been tickled to see if a positive mood changes what foods they prefer. The rest of my day is usually spent counting and analysing the sounds they make during the tickling – I do this using a special programme which can visualise the sounds for me into little squiggly lines (as these sounds are actually outside the range of human hearing) and then count and categorise the different noises – this can take a really long time as they can make up to 200 of these sounds a minute!

What I'd do with the prize money: I'd like to start a podcast about interesting and funny scientific experiments

Read more

I'd like to start a podcast for the general public about interesting and funny scientific experiments or discoveries. I would like to talk to a different guest every week and before each episode we would randomly pick a scientific area or topic. We would then do some research about our favourite funny or interesting experiment for that topic and then tell each other about it during the podcast!

My Interview

How would you describe yourself in 3 words?

Creative, Jazzy, Geek

What or who inspired you to follow your career?

I've always been a huge fan of David Attenborough so watching his documentaries (particularly the original blue planet) inspired me to become a scientist

What was your favourite subject at school?

Chemistry and Drama

What did you want to be after you left school?

a marine biologist - I love sharks!

Were you ever in trouble at school?

Not really...

If you weren't doing this job, what would you choose instead?

I would love to be a scientific tv/radio presenter

Who is your favourite singer or band?

Pearl Jam - I love all music but old rock/grunge is my favourite!

What's your favourite food?

Potatoes!

What is the most fun thing you've done?

I went white water rafting down the river Nile

If you had 3 wishes for yourself what would they be? - be honest!

I would love to be a science presenter on tv or radio. I wish I could perfectly play all musical instruments. But most importantly I would wish to always be happy!

Tell us a joke.

Why did the jelly bean go to school...? Because he wanted to be a smartie!
---
---