Students! Did you do your profile survey? Check your email for a chance to win a £20 voucher and tell us what you think now!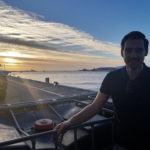 Wow, I can't believe I won, especially with a zone full of such fantastic scientists! This has been an amazing experience, one that I didn't realise how much I'd enjoy. A massive thank you first of all, to the I'm a Scientist team, who run the event form day to day making sure the whole thing goes smoothly.
I didn't realise how much I could learn from chatting about my work. Some of the questions asked made me really think about what I was doing, and coming up with ways to make accessible for everyone to understand. But it also taught me to how to make it sound interesting to kids, who may normally find science boring or would never think to look at the topic I research.
The live chats were the best bit, I felt like I was using MSN all over again! They were fast paced and you could get asked anything. I got to answer questions on topics like drug legalisation and what impact my research that could have, both areas I'm passionate about. Some points I was taught things as well, like the aquatics ape theory, showing that we the scientists can be taught new things as well.
This leads on nicely to the main thank you, the kids! Without your questions and votes the event wouldn't have happened. It made the whole experience amazing to take part in, as they could ask anything you could talk about science to what the latest PS4 game they were playing.
Overall, anyone thinking of taking part in I'm a Scientist, do it, be it a scientist or a school. You can help to inspire a future generation of scientists, but they can teach you in the process.
Psychologists! If you'd like the chance to win funding for your own public engagement work, apply for the next I'm a Scientist, Get me out of here: imascientist.org.uk/scientist-apply